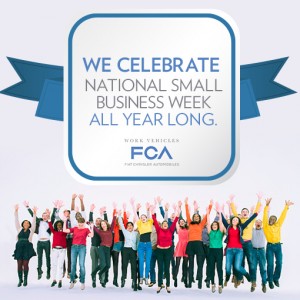 Given that small businesses are an indispensible part of this country's economic well-being, responsible for employing half the nation's workforce, it's no surprise that every year since 1963 the president of the United States has issued a proclamation announcing National Small Business Week, a time to "recognize the critical contribution of entrepreneurs and small-business owners."
We're proud to join the country in celebrating the owners of small business, their positive effect on the economy and the lasting impact they have had on so many, including the highest-level executives at FCA US, who, as we see below, fully understand the importance of small business.
"Small businesses are the lifeblood of a vibrant economy. They employ more than half of the U.S. private sector workforce, create a majority of the net new jobs in the economy, and provide an important source of innovative ideas and technologies. Small businesses also embody the spirit of striving to create something better that is at the center of the American Dream. They are an important part of the FCA US business, and we are working hard to be worthy of them." -Sergio Marchionne, Chairman and CEO, FCA US LLC
"We know that working with small businesses as we develop future programs will allow us to deliver products that meet all of their needs. We are committed to providing reliable and highly capable products to ensure they have the right tools and support to be successful." -Robert Hegbloom, President & CEO Ram Truck Brand
"It's no secret we actively court small-business owners here at FCA, and it isn't just because they make up such a significant percentage of the vehicle buying public. The fact is small-business owners are some of the smartest and most discerning buyers in the market. We know they consider their vehicles a key contributor to their business's success and we're honored to be a part of that." -Tim Tessmar, Head of Small Business Sales and Operations, FCA US LLC
"Ram Trucks would not be America's fastest-growing truck brand without support of thousands and thousands of small businesses that are purchasing our vehicles. We don't take that for granted. Our commitment to providing best-in-class fuel economy and best-in-class capability has paid off for these small business customers that care about getting the job done efficiently." -Becky Blanchard, Director, Ram Truck Brand
"There is nothing so satisfying as selling a new work vehicle to a small-business owner. Not only is it a sign that one more business in our community is succeeding, it's also an opportunity for us to help that business continue to succeed. I'm proud that my dealership can play a role in someone achieving success, and I'm committed in my personal life to supporting small businesses however I can." -Dave Simoni, General Manager, Fields Chrysler Jeep Dodge and Ram
"I'm never surprised to find out a person I like and respect comes from a background of small business. Whether they spent summers working in their grandparents' corner market, or afternoons at their mom and dad's sporting goods store, or something similar, a strong work ethic and sense of integrity always seems particularly well developed. I can only imagine it's due to the tireless, hardworking people who set tremendous examples for them to follow." -Justin Lambden, Eastern Regional Sales Manager, FCA US LLC
Be sure to visit SBA.gov for a complete list of events and webinars happening during National Small Business Week.