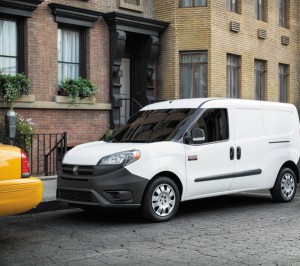 Perhaps your business is booming after years of hard work and persistence, or maybe you're just getting started. Either way, you need a commercial truck to help you get jobs done efficiently and effectively. Whether you're replacing an old vehicle or starting fresh with your first pickup or van, you need the right one to suit the demands of your business.
Before you start researching different models, think about what you expect from a work vehicle. First and foremost, what will you carry to your job site or delivery location? Answering that question will help you determine how much cargo space you'll need. Is your load particularly heavy, or do you need to pull a trailer? If so, your vehicle should have the capability to meet those needs. Finally, fuel costs are an important consideration for any business vehicle, so finding one that's efficient on fuel is always important.
Cargo space
Vans are the kings of cargo space. The largest Ram ProMaster®, for example, can swallow up to 530 cubic feet of cargo, the equivalent of more than 66 boxes measuring 2′ by 2′ by 2′. Compared to pickups, vans also offer better security for your cargo. If you're hauling valuable copper pipe, leaving it in the open bed of a pickup may not be wise. For those with smaller, lighter loads, a compact van like the Ram ProMaster City™ is a great solution.
While pickup trucks can't match the cargo space of a full-size van, the versatility of these vehicles is tough to beat. Open beds make loading and unloading simple, even for loose cargo like bulk sand or gravel. And if even the largest ProMaster van can't handle your large or heavy load, pickups offer a wider range of payload and towing capabilities.
Load capacity and towing capability
Vans may carry the biggest volume of cargo inside, but pickups are the leaders when it comes to hauling very heavy loads or towing massive trailers. The Ram 3500 pickup is the ultimate example of this capability, with a maximum payload of more than 7,000 lbs. or the ability to tow an astounding 30,000 lbs.
Because pickups offer such a wide variety of vehicle weight ratings, engine and drivetrain choices and cab styles, payload and towing capacities also vary widely. Consult a towing chart to find one that suits your business's everyday needs along with the occasional heavier project.
Fuel efficiency
So many factors contribute to fuel efficiency: vehicle size and weight, engine and transmission specifications and even driving style. In choosing a commercial vehicle, you want a truck or van that gets the job done without going overboard. Buying a vehicle with more capacity than you really need can drive up your fuel costs.
The temptation to buy more truck than you need is strong, but the resourceful business owner should resist it. Instead, find one that can handle your needs while delivering the best possible efficiency. Your bottom line will prove this strategy to be wise.
As you narrow your list of vehicles that suit your business' basic needs, you can begin to look for other characteristics and features that you think will be helpful, such as parking sensors, a backup camera or heated seats. Convenience and comfort features like these are available on a range of models, including lighter, more efficient ones and heavy-duty trucks with extreme capabilities. The factors you really need to consider, though, are the ones that get the job done. The right commercial truck or van for your business is up to handling that task with a balance of ease and efficiency.