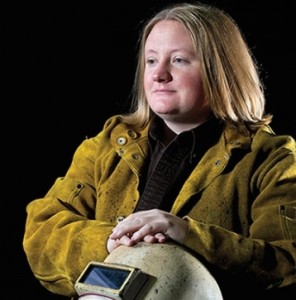 And the winner is…
…A true craft professional in every sense of the term.
And the winner is…
…A woman who constantly sets a terrific example for her colleagues and community.
And the winner is…
…Someone we could ALL look to for inspiration.
Every year our partners at Associated Builders and Contractors (ABC) present the Craft Professional of the Year Award to an individual who sets the standard for professionals in their craft by exhibiting outstanding skills, safety and leadership. This year, the award goes to Holley Thomas, a welder from Alabama, a foreman for KBR and, most importantly, a tremendous example of and for craft professionals everywhere.
What we've learned about Holley in recent months—from her initial nomination to her selection as a finalist to her ultimate recognition as the Craft Professional of the Year—is that there is no one more deserving of the award or more representative of the ideals on which it's based. Her dedication to the trade and commitment to helping others are benefits to both the construction industry and to the greater community in which she lives.
"Holley's passion for her work and for the industry, along with the pride she takes every day in a job well and safely done, makes her the perfect choice for ABC's Craft Professional of the Year," said 2015 ABC National Chair Pamela Volm, president of Annapolis Contracting Inc., Annapolis, Md. "Holley is a strong female role model in our industry and has dedicated herself through many volunteer roles to ensuring that young women understand the opportunities available to them in the construction industry."
Holley received a 2015 Ram 1500 Tradesman from sponsor Tradesmen International as part of her award. Considering her reputation for hard work, we know the truck will be put to good use.
Congratulations to Holley from all of us at FCA Work Vehicles US!