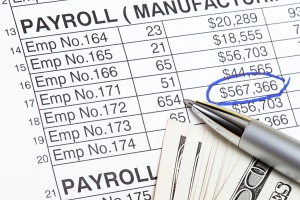 Business is good! You're getting lots of recommendations and praise from everyone that matters — your family, clients, your community. The good news is that now you can afford to hire some people to take on the extra work and get yourself home at a decent hour for dinner with your family. The bad news is that with new employees comes the responsibility of organizing and maintaining financial records, taxes and payroll.
Though setting up a system may seem difficult, there are many tools and resources available to help you get your payment processes well-organized and efficient.
Online resources
From obtaining an EIN (employer identification number) to determining what type of employees you will have and their worker status, there is a lot to know and set up before you can even consider your payroll. The Small Business Administration can take you through the steps of what you need to do before you begin.
Payroll tools or apps
There are many services and apps that you can use to help your small business manage its human resources (HR) needs. Intuit and ADP are popular with small businesses, but they charge a fee — so look into several systems, and figure how much assistance you'll really need.
Try doing a search for "free payroll calculator" and "free payroll programs" to find online tools to help you with simple systems. Also, be sure to check with your bank, as many offer low- or no-cost options.
Tax know-how and help
The most complicated part of managing the payment of wages is, without a doubt, taxes. It's essential to set up your employees, forms, calendar and everything else correctly right from the start, to ensure that there are no mistakes and that you're in line for withholding and paying taxes and for filing your annual tax returns properly.
The Internal Revenue Service offers guidance, including online videos and checklists, through their Small Business and Self-Employed Tax Center. The IRS also offers articles in Spanish and other languages.
Filing system
Though it may seem basic in today's high-tech world, one of the most vital tools in hiring employees is to have a working filing system to bring some order to what can quickly become paperwork chaos.
Organizational experts suggest creating a filing system, complete with designated and labeled file folders in categories like "payroll," "benefits," "tax forms" and "tax returns," to save you valuable time and headaches later. There are online filing systems as well, but be sure to keep them secure and backed up, and keep paper copies filed for at least a year.
The initial setup of your new HR system may be challenging, but if it's done right, it can be an asset in managing your work and your people every day. Everyone involved can look forward to payday — including you!