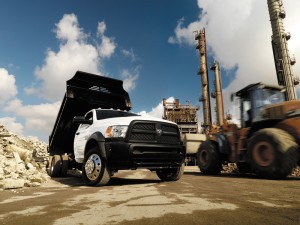 Make room in the trophy case. For the second time in the last five years, Work Truck magazine has named the Ram 4500/5500 Chassis Cab its Medium-Duty Truck of the Year.
Each year the winner of this award is named by Work Truck and Heavy Duty Trucking magazines based on input from a readership composed of more than 100,000 operators of medium-duty trucks.
"As a full-line truck manufacturer, the commercial truck market is extremely important to Ram," said Bob Hegbloom, President and Chief Executive Officer, Ram Brand, FCA – North America. "It's an honor that the readers of Work Truck and Heavy Duty Trucking magazines have singled-out our Ram Chassis Cab trucks for this award. And we're pleased to be recognized for delivering the attributes most important to business owners."
Readers were asked to consider which models best fit their work-truck requirements in several different categories, including application effectiveness, durability, quality, servicing, maintenance and lifecycle costs. Eleven different trucks qualified for this year's Medium-Duty Truck of the Year ballot.
We're honored to add this to a growing list of recognitions, which most recently includes the Green Truck of the Year award from Green Car Journal.