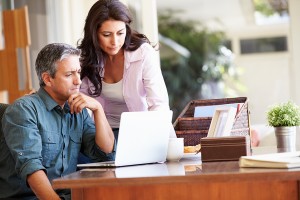 Everyone says online advertising is the way to go, but you might be wondering how a small business with local customers can make it work. Would a plumbing or landscaping business get the same type of response from Internet advertising as larger companies that sell products online? Every business can use online marketing to grow. Here are the benefits you can get from digital advertising.
1. Making it easy on your customers
Even if you're running your business out of a garage, people are looking for information about your work online. If they don't find a website or any other type of online presence, they may walk away and try someone else. According to a Weebly study, 56 percent of people don't trust a company without a website.
Starting a website is the priority, but marketing online helps people find your site. There are techniques to make your website come up higher in a Google search. The process is straightforward, and it only takes a small budget to increase exposure.
2. Expanding your company's reach
You know the way to build a strong reputation in the community — by doing quality work at fair prices. That approach will never go out of style, and there is no reason to change it. However, you only have so much reach by depending on your customers for in-person referrals. If someone at church on Sunday asks them who the best contractor is, you might get a referral. If not, you might lose that opportunity.
Promoting your company online allows you to find the same customers without needing so much luck. If someone searches for "reliable carpenter in San Diego," your business's name could come up, with the right marketing plan. A Facebook page, email marketing or Google ads might be ways for them to find your business. You can place ads in Spanish, English or both, depending on who you want to reach.
3. Digital advertising is affordable advertising
Advertising agencies are expensive, and ads on TV are going to be out of your price range to start. Online advertising gives you many affordable options. Display ads that come up when you're using the Internet are one option; ads on social media (Facebook, Twitter) are another.
Whatever angle you decide with the help of a marketer, there are solutions at any budget. Start out with a freelance contract if you want to test your results. One of the attractive things about digital marketing is that you can see if it's working. There are statistics to show if people went to your website after finding your ad online.
Digital advertising is not just for the big fish in the sea — your business will grow with the right online marketing plan.