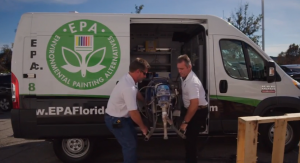 With so much vehicle information available on the Internet today, small-business owners need a partner who can do more than help them make sense of their choices; they need a partner who can provide quality service day-in and day-out once a choice has been made.
Enter BusinessLink®, the business program from FCA that matches business owners with the right vehicles while offering a wide selection of services, incentives and perks.
To learn about the advantages the BusinessLink® program provides to small-business owners like you, please enjoy this video testimonial from Marvin Couch, owner of Environmental Painting Alternatives in Orlando, Florida*.
*We're pleased to report that since filming, the mpg rating for the Ram 1500 EcoDiesel has been increased to 29 miles per gallon for highway driving, up from the 28 mpg mentioned by Marvin in the video. EPA estimated mpg is with a 3.0L V6 EcoDiesel engine and 8-speed automatic transmission, 4×2. Actual mileage may vary.