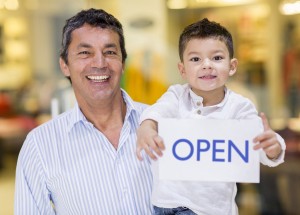 Setting up a new business can be confusing. You know you want to be your own boss. You know what you're good at. You know you can make a good living and provide for your family, but what, exactly, do you have to do to be legit? There are many steps you can take to get your business up and running, but these are the five most important first steps:
1. Name your business
According to the U.S. Small Business Administration, one of the most important first steps in setting up a new business is choosing a business name that is unique and explains what you do. Don't go generic, like "Mateo & Sons," because no one will know what type of business you're in. On the other hand, "Alejandro Rivera's Carpet Cleaning" explains exactly what you do and helps people remember your name when they're searching for that particular service.
2. Print business cards
When you're setting up a new business, it's important to have a way to share your business information with everyone you know. A business card is the perfect tool for this. Have cards with your company name, your name, your phone number, your email address and your website printed at a place like Staples. Then hand them out to customers and family, ask them to give them to their friends and post them on community bulletin boards.
3. Set up a business bank account
A sure sign that you're serious about your business is that you have a bank account for it, separate from your personal bank account. A business bank account helps keep track of your income and business expenses and shows the Internal Revenue Service (IRS) that it's more than a hobby. Call around to find a bank that has low monthly fees.
4. Create a business website
Setting up a new business today requires a website — a way for potential customers to find you online. The good news is that there are sites that will do that for little or no money. One of the most popular is Weebly, which will help you set up a site and host up to five pages for free.
5. Start marketing
Even before you finish these other steps, start marketing your business. One of the quickest and easiest ways is to use magnetic signs or custom graphics that advertise your company on the side or rear of your company truck.
Although setting up a new business takes considerable time and effort, you and your family will be much better off in the long run if you tackle these important first steps first.