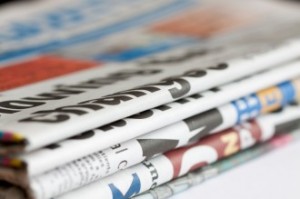 Here at Chrysler for Work, we understand that entrepreneurial success comes, in part, from staying on top of developments in the world of small business. We also understand that in any given month there is just too much good information to discover on your own.
With that in mind, we're pleased to bring you the February edition of Small Business in the News, a monthly series in which we share a few of the noteworthy articles we've come across in our own attempt to stay "in the know." Please enjoy.
Zenefits: Free HR Software for Small-Business Owners
Tech start-up Zenefits offers small businesses a single web-based system to organize and update an employee's HR records, everything from payroll, to health care, to time tracking and so on. Best of all, the software is free. Zenefits makes its money if/when the small business opts to purchase health insurance through the start-up's proprietary software. Is it a win-win for small-business owners: free software they need along with a product (insurance) they have to buy anyway? Possibly. This article from The New York Times provides more information, including potential issues the company may face as health-care laws rapidly change.
Entrepreneurship, it seems, has no age requirement. In this inspirational story from Inc.com, we meet a hardworking 14-year-old sophomore in high school who is leading his own start-up company to astonishing growth. Not simply a story on the burgeoning entrepreneur, the article also includes six tips for achieving start-up success of your own.
.how to Stand Out in Saturated Online Market
If your business model includes offering advice or some kind of how-to service to clients or customers, you'll want to pay close attention to a new development from Google. The search giant has released a new URL extension called .how with the suggestion that experts and businesses use it to indicate websites that give insight or educate, skydiving.how for example. Entrepreneur sums it up succinctly: "With 130 million URLs falling into .com territory, .how offers companies and entrepreneurs a unique way to stand out from the competition." Read the whole article to find out more, including how to secure a .how domain name of your own.