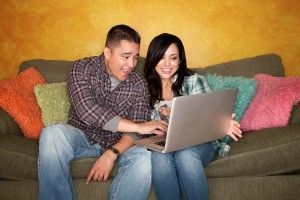 Back when your father was running the family business, all it took to attract customers was a newspaper ad or maybe a listing in the Yellow Pages.
Nowadays, even a small, local company needs a business website. In less time than it takes to turn the key in the ignition of your truck, a customer can pull out his mobile phone and compare your quote or product price against five others. You have to be connected to compete, and that means a business website.
Luckily, plenty of inexpensive services exist to help you quickly set up a website that will showcase your business. You have two main options: Create the website yourself, or get someone else to build it for you.
Do-it-yourself websites
If you like a challenge, and you have time to spend on the project, you can build your own website for a relatively small amount of money. Several online companies make it very easy.
For about $12 per month, GoDaddy offers package deals that include help designing your website, a personalized website address (also called a domain name) and a unique email address for your business.
Want to sell your products online? Shopify can help you set up a business website to sell products directly to your customers. This service is about $30 per month.
For something a little more elegant, Squarespace offers a wide variety of nicely designed website templates that you can use for as little as $8 per month. They even allow you to try their service for two weeks for free.
Whichever service you choose, be aware that the monthly fee can change depending on how many visitors your website gets. Start with the most inexpensive plan — you can always upgrade later.
Hiring someone to build your website
Whether your cousin offers to help or you hire someone, keep a few things in mind when another person builds a website for you.
Learn how to use your website: No matter who builds the website, someone needs to update the information. Make sure whoever builds it teaches you how to use the software. Otherwise, you will have to pay them every time you want to promote a new product.
Use lots of pictures: Take good, high-quality photos and include them on the website. Your customers want to see what great things you have to offer. Be sure to include your crew and equipment, like your truck and your best workers. In these days of social media, consumers like to connect with the people they do business with and hire.
Check and update the information: At least once a month, look at all the pages on your website and make sure the information is current. Remove any outdated products. And add new information as often as you can.
Some helpful resources
Google offers a service called Get Your Business Online, with resources to help small businesses who want customers to find them more easily on the Web. Many of the services are free. Also, the Small Business Administration has many great articles and free videos on their website to help you grow your business using technology.
See you online!