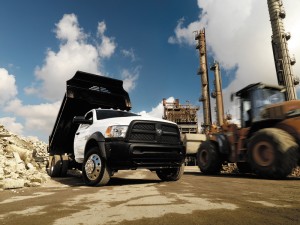 Your truck is as much a part of your crew as your workers — and just like hiring a new employee, sometimes you need to get a new truck. That means you have two exciting options: you can buy a new truck already decked out with all the latest features and gadgets, or you can build your own truck from the chassis up to really make it work for you. Here are the pros and cons of both options to help you decide which approach to take.
Building your own truck

Ram Commercial lets you buy a chassis cab model — often called a "stripped chassis" because it's just a cab with frame rails in back — in order to create the ideal truck for your work situation. You can choose your model type, axle length, engine, wheels and tray, as well as the interior look and features, including power windows, seat type, stereo and floor mats. You can add a tow truck bed, or a box for cargo hauling, or even customize it to use as an ambulance — it's all up to you and your work needs.
The awesome ability to build your own truck and make it as unique as you and your job is a huge benefit. However, it does come at a price. Customization will cost you more than simply buying a new truck from the showroom floor. You'll also have to wait longer for delivery of your customized truck than you would if you bought a non-custom model — it takes time to add on all the great options you've selected. But these factors are a small price to pay for the peace of mind that comes from knowing you have the best possible truck to tackle all of those tricky work jobs, as well as the runs to the lake or beach with the family on weekends. Building a truck can give you a wide range of customization options that you can't get anywhere else — and that's big news for shoppers who have specialized needs.
Buying a new truck
If you decide to buy a new ready-made truck instead of building your own from a chassis cab model, the main drawback is obvious: you won't be able to customize the truck quite as much. For a tow truck operator, this could be a huge problem. In this case, you won't be able to make do with anything other than a chassis cab truck with towing equipment in back. But many shoppers don't need the personalization that comes with customization, so it's up to you to look at the kind of work and play you do when making your decision.
That said, there are some major benefits to a newer truck. Primarily, you'll get a premade, ready-to-go workhorse that can tackle just about anything you want to throw at it. You'll also find that a "standard" pickup is cheaper than a modified chassis cab model because it doesn't require any additional construction.
Is it better to build or buy your next commercial truck? That much is up to you, and it largely depends on your business needs. Ram Commercial has a wide variety of chassis cab trucks available for shoppers who need something unique, but also many great options for the man who wants his truck ready to go straight away.