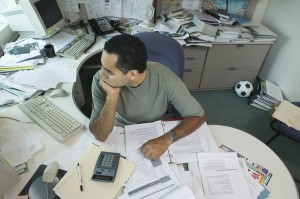 Home offices can be great. You don't have a commute, and you work surrounded by your family. However, when your business gets bigger and you hire employees, you have to leave the home office behind to get more space and to comply with local laws. While you might miss the comforts of home, consider it an important step in taking your company to the next level. Here are five benefits of a business office vs. home office.
1. Better productivity
Employees need space to work, so you'll get better performance from your team when you have a professional office location. It also eliminates the distractions involved with working at home. If your employees are your friends or family, they might waste time chatting with your children or checking to see how lunch is coming along. When you have an office, you don't have these interruptions — everyone can concentrate on the job you need to do.
2. Professional location
Your clients will take you more seriously when you have a business office location. When meeting new clients to discuss a job or talking to bankers about financing, you present a stronger business image at a commercial office where you go to work every day. It could make the difference in landing a new contract or a regular client trusting you with a bigger project.
3. Local laws for business office vs. home office
After you hire employees and have clients visiting your business, local zoning laws may prohibit you from operating out of a home office in your neighborhood. The U.S. Small Business Administration website outlines the type of limitations involved with working in a home office. There may be legal concerns you must address if you choose to keep working from home.
4. Respecting the community
Besides concerns about the law, your growing business may disturb the community. Whether you have trucks coming to pick up equipment or clients visiting every day, residential neighborhoods are not the place to do business with commercial vehicles. Moving to a professional office shows your respect for your neighbors and your community, and it's the right thing to do. You don't want your children playing around the house if trucks are coming and going all day.
5. Growing the business
The biggest benefit of a business office over a home office is the opportunity it provides for your family. Once you have more space and the ability to meet partners and clients in a professional setting, you can move on to the next phase of your business. Moving out of your home office into a commercial location is the first big step forward.
Though renting an office means you'll have higher monthly expenses and you'll miss your family, you will eventually need to take this important step to grow your business. Your family will know you are making the sacrifice for them.