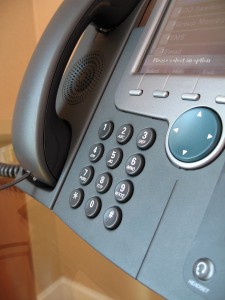 In a world dominated by email, instant messaging and social media, setting up a dedicated business phone line is still one of the most important things a business can do to be successful. As a small business owner, you know how important it is for your customers to know who you are and where to reach you, and a business phone number is just as important to this as your website or email address.
Benefits of a business phone
While there's been a growing trend for companies to depend mainly on email, instant messaging and text for most (if not all) communication, and while it's easy for small business owners to just use their personal cell phones for their business, there are several benefits to having a traditional business phone line:
It shows your customers you care about them personally.
It helps your business maintain a professional image.
It offers a professional experience for your customers, other businesses and your own employees.
It ensures that any and all phone inquiries are answered professionally and aren't lost.
Setting up a separate business phone line, along with a business address, is one of the first things you should do when establishing your business. A dedicated business phone line is essential to creating and maintaining a business identity.
While many businesses may seem to take their phone systems for granted or think of them as antiquated and limited in features and functionality, according to TDS Systems, the telephone is nonetheless the lifeblood of any business and should be considered a must-have, not an option.
Don't use your personal phone line
Not offering customers the option to communicate by phone is bad enough, but if you try to save money by using your personal line to run your business, it increases the potential for disaster, suggests marketing coach Kenny Pugh.
"There's nothing worse than calling someone for business only to have their kids answer the phone as if you're interrupting something," Pugh writes in his business advice blog.
A business phone line not only helps your customers communicate with you, but also makes it easier for other businesses and business owners to get in touch with you — and, likewise, it can help open up the communication channels between employees themselves.
The bottom line is, even if your business is small, you might want to strongly consider even designating a separate cell phone as your business phone line, at least when you're first starting out.
The importance of setting up —and keeping — that one-on-one line of communication should be coming in loud and clear.