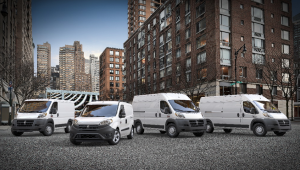 Small business owners and service professionals have no shortage of tools and equipment to haul. Just keeping everything organized can be a full-time job in itself.
An upfit is not a one-size-fits-all product. In fact, the product designers at upfitter Adrian Steel have spent hundreds of hours shadowing professionals in the field to learn exactly how people in different trades utilize their work van. While customers have the option to design an upfit from the ground up, Adrian Steel has also made it simple to select a complete upfit that is designed specifically for your job and your vehicle.
Whether you're a locksmith who carries a slew of small parts or a general contractor who hauls ladders and materials, an upfitter like Adrian Steel will help make it easy to organize your  Ram ProMaster or Ram C/V Tradesman® with customizable, durable upfits designed for an array of industries.  Here's a closer look at what they can do and for whom.
General Service
Service professionals have a wide range of duties, and the General Service package accommodates this with versatile shelving. All General Service packages come equipped with divided shelving to keep your various tools and equipment organized in the cargo area of your van. Both the ProMaster and C/V packages include a partition to separate the cab from the cargo area, though the partitions vary depending on the vehicle. The ProMaster package also includes several drawer units, hooks and a bin system that allows workers to easily transport tools to and from the vehicle.
Ram ProMaster 136'' WB General Service Package
Ram ProMaster 159'' WB General Service Package
Ram C/V General Service Package
Ram ProMaster 136'' WB General Service Package
 Locksmith
Many locksmiths spend a lot of time in their work vehicles, and some may even use it as a mobile office. Because of this, Adrian Steel includes a workbench in the Locksmith upfits for both the Ram ProMaster and Ram C/V. By giving locksmiths a place to work within their vehicle, the functionality of the space can be maximized.
Ram ProMaster 136'' & 159'' WB Electrical Contractor Package
Ram ProMaster 136'' & 159'' WB Electrical Contractor Package 
Electrician
We all know how easy it can be for a pile of wires to get tangled and how tedious it can be to straighten them out. The Electrical Contractor Package for the ProMaster and C/V from Adrian Steel includes a wire reel holder to help electricians manage all the wires they need for the job. Additionally, Electrical packages come with heavy-duty shelving and exclusive Lock N' Latch drawers to keep tools and equipment organized and safely stored in the cargo area of the van.
Ram ProMaster 136'' WB Electrical Contractor Package
Ram ProMaster 159'' WB Electrical Contractor Package
RAM C/V HVAC Package
HVAC
HVAC technicians have a few special requirements when it comes to their cargo space. The HVAC line of work requires the transportation of refrigerant tanks and other equipment that can be tough to store. Adrian Steel's HVAC package for the ProMaster includes a Welded Tank Rack and Tank Rack Adapter designed for this reason — to accommodate the specific needs of HVAC professionals. The HVAC package also includes versatile shelving, drawers and a partition to maximize the cargo space of the van.
RAM ProMaster 136'' WB HVAC Package
RAM ProMaster 159'' WB HVAC Package
RAM ProMaster 159'' WB HVAC Package
 About Adrian Steel
Established in 1953, Adrian Steel Company is a leading manufacturer of commercial vehicle cargo management solutions. Adrian Steel is known for its innovative, high-quality products and versatile upfits. Popular products include customizable upfit packages, durable drawers and shelving, truck toolboxes, ladder racks and trade-specific accessories. All upfits are available through Adrian Steel's  extensive distributor network. For more information, visit www.adriansteel.com, call (800) 677-2726, or email info@adriansteel.com.