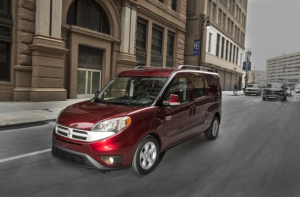 With the launch of the all-new Ram ProMaster City comes plenty of questions. Rest assured the Ram Commercial team has answers.
Join us next Thursday, July 17th, at 12 p.m. ET for a Google+ Hangout with the director of the Ram Brand, Robert Hegbloom, and the director of Ram Truck Engineering, Michael Cairns, who will be answering your questions personally.
There's no need to sign up for anything to participate — anyone is welcome to join. Just find Ram Trucks on Google+ or YouTube and join us for the chat. Send your questions to @RamTrucks on Twitter or post them on the Ram Trucks Facebook page so we'll be sure to see it.
In an effort to answer as many questions as we can, the hangout will move fast, and certain questions may be moderated in order to keep the conversation moving. If you want to make sure you get your questions answered, be sure to RSVP to our Google Plus event.
Don't worry if you miss part of the hangout. We'll be linking to an on-demand replay of the session from our Facebook and Twitter pages.
For a better idea of what to expect in next week's Hangout, check out this recent Ram 1500 EcoDiesel Google+ Hangout.