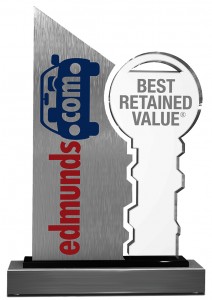 Your business vehicle is an investment — and a big one at that. Choosing a commercial vehicle that maintains its value over time helps you from losing money if you were to sell it in the future.
The auto experts at Edmunds.com recently conducted research and found that when it comes to commercial vans, the 2014 Ram ProMaster upholds its value best — awarding it a 2014 Edmunds.com Best Retained Value® Award.
The Edmunds.com Best Retained Value® Awards highlight a vehicle value for consumers. The awards recognize the brands and models that have the highest projected private party residual value five years after their launch.
 "Chrysler Group is honored to accept these awards from Edmunds.com," said Doug Betts, Senior Vice President – Quality, Chrysler Group LLC. "Great resale value reflects the strengthening of our brands and the improvements in the customer satisfaction and quality for these award-winning products."
The ProMaster wasn't the only Chrysler Group vehicle to catch Edmund's eye. The 2014 Jeep Wrangler took the honors in the Compact SUV segment, while the 2014 Dodge Challenger came out on top of the Midsize/Large Coupe category.
To see how the 2014 Ram ProMaster can fit into your budget, build and price one out for yourself at RamTrucks.com.
 *Based on Class 2 Large Commercial Van segment