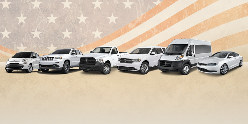 More than 80% of entrepreneurs depend on a designated work vehicle to mobilize their business. Whether you're a start-up looking for a reliable set of wheels or a veteran landscaper looking to revamp your fleet, Chrysler Commercial Vehicles has the tools to help you find the vehicle that best suits your business and your budget.
Our group of websites offer shopping tools that allow you to build and price out your own Chrysler Group vehicle. Advanced filters allow you to easily narrow down results based on specific needs like towing power, cargo capacity and fuel economy. While you're there, compare trim levels, view standard features and check inventory at your local dealership.
Select a brand from the list below to begin building your new business partner.
When you think you've found a good fit, you can do one of two things. One option would be to submit your personal and vehicle information to your local dealership for a quote.
Another good option is to write down your must-have features, or better yet, print off your favorite vehicle builds and take them with you when you visit your local dealership. Arriving with a clear picture of what you want will save both you and your sales representative time and energy.
When you arrive at your dealership, don't forget to mention if you're a small business owner, as you become eligible to receive a slew of incentives through our BusinessLink® program.
Will your new vehicle need to be financed? Take a look at some of our special finance and lease options with lines of credit financing custom-tailored to the needs of small and mid-size businesses owners like you. When you submit your application online, you'll receive a personalized finance offer-instantly.
Apply now and get behind the wheel of your vehicle even faster.