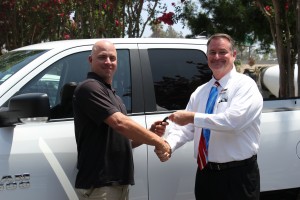 Craftsmanship is the quality that comes from creating with passion, care and attention to detail. It is a quality that is honed, refined and practiced over the course of a career.
Each year, our partners, the Associated Builders & Contractors (ABC), recognize true craftsmanship when they present the Craft Professional of the Year Award.
The recipient of this national award demonstrates a passion for the trade, taking pride in hands-on work and the satisfaction of a job well done for the benefit of both the construction industry and his or her local community.
This year's winner, Robert Stuart, a superintendent at Stronghold Engineering, is a master of electrical skills whose commitment to excellence makes him the ultimate example of meritorious success in his field.
We felt that a hardworking artisan should be rewarded with an equally hardworking truck.  Our friends at Tradesmen International and DCH Chrysler Jeep Dodge of Temecula, California, presented Stuart with a brand-new 2014 Ram 1500 Tradesman Crew Cab.
Stuart began his career with Stronghold Engineering while still in high school in 1997. Throughout his career he demonstrated a commitment to helping those around him. In 2011 he was named ABC's Craft Instructor of the Year for his devotion to mentoring electrical apprentices at ABC's Southern California Chapter. He is also actively involved in the Apprenticeship 411 program where he conducts training and seminars for more than 200 high school students and their parents.
From all of us here at Chrysler Group, congratulations, Stuart!
If you're interested in joining the best network of professionals in the construction industry, visit ABC.org.