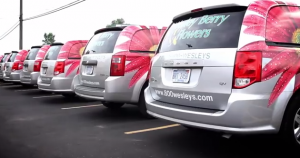 Here at The Chrysler for Work Blog, we spend a lot of time getting to know hardworking small business owners and entrepreneurs from all around the country. We have turned some of our conversations into a video series we call Real People, Real Business, which sheds light on the incredible impact that these people have on communities and on our nation as a whole.
Today's edition of Real People, Real Business features Wesley Berry, owner of Wesley Berry Flowers, one of the largest florists in the country. When it came to choosing the right delivery vehicle for his business, Wesley knew capability along with a low operation cost would be important to maintaining his bottom line. That's why he picked the Ram C/V Cargo Van. With generous cargo space and a fuel-efficient 3.6-liter Pentastar® V-6 engine, it's the perfect vehicle to deliver a little ray of sunshine.
Do you use a Chrysler, Dodge, Ram Trucks or Jeep® brand vehicle for your small business? We would love to hear your story. Share it with us in the comments section below, or, better yet, post a photo of your work vehicle on the Chrysler for Work Facebook page, and you might just be our next Real People, Real Business story.