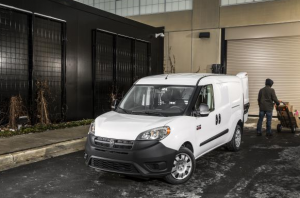 Whether the job is delivering packages, organizing and hauling the tools of a professional tradesman or carting the band's gear to the next gig, the All-New 2015 Ram ProMaster City is designed and engineered to tackle big jobs.
Joining the larger and highly capable Ram ProMaster and popular Ram C/V van, the 2015 Ram ProMaster City stands out in virtually every way with best-in-class attributes in the areas that count.
2015 Ram ProMaster City best-in-class features include:
Combined fuel economy
178 horsepower and 174 lb.-ft. of torque
Payload – 1,883 pounds
Cargo volume – 131.7 cubic feet
Cargo width and length – 60.4 inches and 87.2 inches
Distance between wheel wells – 48.4 inches
Wheelbase – 122.4 inches
The Ram ProMaster City is thoughtfully designed with the working man in mind. "As businesses strive for lower costs, the demand for a smaller, more efficient van has increased, and Ram Commercial is answering the call with the all-new ProMaster City," said Reid Bigland, President and CEO – Ram Truck Brand, Chrysler Group LLC. Years ago, the selection of delivery and cargo vehicles was limited, and those offerings didn't focus on cost of ownership. Today, all that has changed with the recent introduction of the full-size Ram ProMaster and the now the Ram ProMaster City."
The ProMaster City is available in four versions — Tradesman, Tradesman SLT, Wagon and Wagon SLT— offering versatility and functionality with compact external dimensions allowing easy use in urban areas.
The two-seat Tradesman cargo van and five-seat passenger Wagon offer modern styling with eight total available configurations.
Here is a breakdown of the Ram ProMaster City configurations:
Tradesman Cargo with security panels
Tradesman Cargo with rear windows
Tradesman Cargo with rear and side windows
Tradesman SLT Cargo with security panels
Tradesman SLT Cargo with rear windows
Tradesman SLT Cargo with rear and side windows
Wagon with rear and side windows
Wagon SLT with rear and side windows
Design
 Exterior styling is identified by smooth body lines, twin-reflector headlamp clusters and the signature crosshair grille with ram's head logo as the focal point.
 Standard dual sliding side doors and 60-40 rear swing doors with 180 degrees of movement allow easy access to payload and passenger entry/exit.
Protective cladding on the side and rear protect the body from knee-level bumps, putting this small van at home in tough parking situations.
The 2015 Ram ProMaster City is available in nine exterior colors: Bright White Clear Coat, Bright Red,
Black Metallic, Silver Metallic, Deep Red Metallic, Blue Night Metallic, Quartz Gray Metallic, Broom
Yellow (fleet) and Earth Brown (fleet)
The interior design provides roominess, ergonomics and practicality for small business owners who depend on their vehicles to get the job done or to chauffeur passengers.
"Operators of a new Ram ProMaster City will need to stay focused on daily tasks, so we want the cabin to be a place of comfort, convenience and functionality, said Klaus Busse, Head of Interior Design — Chrysler Group LLC. "Without question, the goal is to create an interior for the person who will spend many hours at the wheel and/or working in and out of the cargo area."
Powertrain
The 2015 Ram ProMaster City's powertrain combines MultiAir2 engine technology and an exclusive nine‑speed automatic transmission to deliver best-in-class performance and best-in-class combined fuel efficiency.
Powered by the 2.4-liter Tigershark I-4, the engine generates a best-in-class 178 horsepower at 6,250 rpm, while its peak torque — 174 lb.-ft. at 3,900 rpm — is greater than any standard-equipment engine in the ProMaster City's segment.
The Ram ProMaster City uses a front-wheel-drive layout that provides several benefits:
Fewer mechanical parts, resulting in less weight, lower maintenance costs (in large part because there's no rear differential), enhanced mechanical efficiencies and enhanced fuel efficiency

Optimal cab and cargo compartment space, attributable to the absence of a transmission/prop shaft tunnel — a key enabler to achieving a flat floor in the cargo compartment area

More predictable handling in emergency maneuvers (reduced over- and under-steer characteristics)

Enhanced traction in rain, mud and snow, a result of the engine weight being situated over the drive wheels

Greater payload capability due to lighter overall vehicle weight
You can watch our coverage of the ProMaster City's big reveal in the video below.