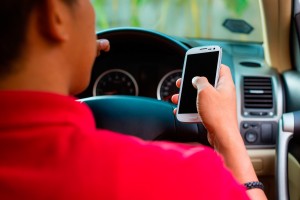 According to the U.S. Department of Transportation's National Highway Traffic Safety Administration (NHTSA), at any moment, about 660,000 U.S. drivers are using electronic devices while driving. A driver, distracted behind the wheel, increases the risk of a crash by 2,300%.
The NHTSA also reports that on-the-job crashes cost employers more than $24,500 per crash, $150,000 per injury, and $3.6 million per fatality.
The solution to distracted driving may sound like an oxymoron, but small businesses are actually minimizing distractions caused by mobile devices with smartphone apps.
That's right, there are now mobile apps designed to monitor driving behavior in real time and others that can even detect when the car is in motion and will disable text functionality altogether.
If having preoccupied employees behind the wheel of your vehicle concerns you, consider implementing a new distracted driving policy supported by one of these top-rated apps.
The Canary app sends you real-time notifications when calls are placed and answered and also when there is texting or social media use behind the wheel. The app can monitor up to 10 devices for a lifetime for a one-time fee of $14.99. Additionally Canary allows you to set maximum speed limits and set up daily or weekly reports that summarize each driver's record.
Drive Scribe promotes safe driving through positive reinforcement, and the best part is it's free!  Drivers accumulate points based on safe driving habits and can, in turn, redeem those points for gift cards to places like Amazon.com.
CellControl requires you to install a small device under the steering wheel in addition to downloading the app on your smartphone. Once you've completed both those tasks, the app can detect when the car is moving and will disable utilities on the mobile device. The app can also be used to track the location of each of your commercial vehicles.
DriveSafe.ly™ is a mobile application that reads text messages and e-mails out loud in real time and automatically responds without drivers touching the mobile phone. It's available for all operating systems with a price tag of $79.90 annually or $7.99 per month per phone.
Instituting no-texting policies for your drivers may seem like a no brainer, but these apps will help further protect you and your employees where willpower fails.