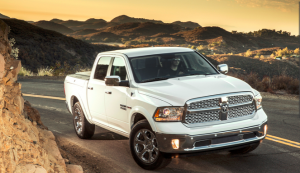 If you are considering a 2014 Ram 1500 EcoDiesel for your business, the Internet is a great tool for conducting research. Though sometimes, when it comes down to the wire of finally making the purchase, it pays to talk to an expert.
We're giving you the best of both worlds, bringing the experts right to your computer screen. Join us tomorrow, June 12th, at 2 p.m. ET for a Google Plus Hangout with the Ram 1500 EcoDiesel product experts who will be available to answer your questions personally.
There's no need to sign up for anything to participate — anyone is welcome to join. Just find Ram Trucks on Google+ or YouTube and join the chat. Send your questions to @RamTrucks on Twitter or post them on the Ram Trucks Facebook page so we'll be sure to see it.
In an effort to answer as many questions as we can, the hangout will move fast, and certain questions may be moderated in order to keep the conversation moving. Don't worry if you miss part of the hangout. The full question and answer session will be available on the Ram Trucks YouTube page after the event is over.
If you want to make sure you get your questions answered, be sure to RSVP to our Google Plus event.
For additional information about how the 2014 Motor Trend Truck of the Year, the Ram 1500 EcoDiesel, can boost your business, contact a Chrysler BusinessLink® Dealer near you.