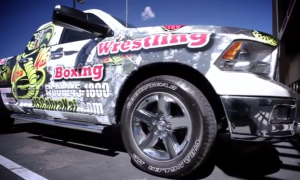 Here at The Chrysler for Work blog, we spend a lot of time getting to know hardworking small business owners and entrepreneurs from all around the country. We have turned some of our conversations into a video series we call Real People, Real Business, which sheds light on the incredible impact that these people have on communities and on our nation as a whole.
Today's edition of Real People, Real Business features Ernie Garcia, a Muay Thai and mixed martial arts trainer at Joe Stevenson's Cobra Kai in Victorville, California. Ernie finds himself and his pupils hitting the road and clocking 100- to 200-plus miles each weekend for competitions. After shopping around and finding other trucks inferior, he selected a Ram 1500 to cart himself, his heavy gear and his students to events.
Check out what Ernie has to say about his Ram truck in this video.
Do you use a Chrysler, Dodge, Ram Trucks or Jeep® brand vehicle for your small business? We would love to hear your story. Share it with us in the comments section below or, better yet, post a photo of your work vehicle on the Chrysler for Work Facebook page, and you might just be our next Real People, Real Business story.