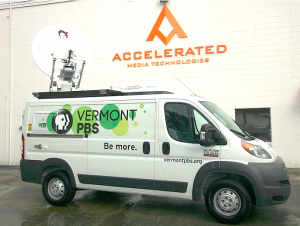 When it comes to upfits, the Ram ProMaster–whether it is the 1500, 2500 or 3500 model–was built to be a blank canvas. Its outstanding interior room and ease-of-upfit give way to countless configurations.
No matter how unique your business needs are, there is sure to be an upfitter who specializes in your industry. One company in Auburn, Massachusetts, Accelerated Media Technologies, specializes in transforming cargo vans like the Ram ProMaster into high-tech broadcast vehicles.
The company recently brought to fruition a broadcast vehicle that had been in development for the past eight years with Vermont Public Television. We were so fascinated with the final product that we reached out to Accelerated Media Technologies President Tom Jennings to learn more.
Chrysler for Work Blog:  Tell us about your company, Accelerated Media, and what you do?
Tom Jennings: Accelerated Media is the leading manufacturer of mobile communications vehicles for the broadcast industry.  We produce over 300 custom vehicles per year.
Chrysler for Work Blog:  How long does it typically take Accelerated Media to transform a work vehicle into a broadcast vehicle?
Tom Jennings: The total conversion time is about 2 months and involves literally thousands of parts. Many of them are custom-fabricated.
Chrysler for Work Blog:  Tell us about your recent collaboration with Vermont Public Television.
Tom Jennings: Accelerated has maintained a relationship with Vermont Public Television for many years and we have been planning this particular vehicle for more than 8 years. In late 2013, a budget was approved for the project and we began looking for the best possible platform for them to base this new vehicle on. The Ram ProMaster was a perfect fit! The vehicle's compact dimensions and ergonomics made it a perfect choice.
When the new Ram ProMaster first made its debut, we contacted our Regional New England Account Executive, Dan Dugan. He was EXTREMELY helpful in sourcing the chassis in record time so we could engineer a solution, build a prototype, and have it ready to exhibit at the NAB (National Association of Broadcasters) conference in Las Vegas in April.  The NAB conference attracts 100,000-plus industry insiders every year. The ProMaster made a HUGE splash and was selected by several other networks as their "Chassis of Choice."
Chrysler for Work Blog:   After being upfitted by Accelerated Media, what capabilities does a vehicle like Vermont Public Television's Ram ProMaster have?
Tom Jennings: When the vehicle is complete, it is capable of transmitting High Definition broadcast signals to and from anywhere in the world.  The Satellite systems transmit a high power signal to a satellite that is over 22,000 miles away in a geo-stationary orbit. That signal is then beamed back to earth to any location that needs to receive it. These trucks are used by television broadcasters to report breaking news, broadcast sporting events and distribute program content, as well as provide critical communications.  It is the key link between the "story" and the "audience" watching it.  Whenever a television station reports LIVE, they are doing it from a vehicle such as this. It is critical that news vehicles be based on a reliable truck platform and with a company that understands the importance and critical nature of fleet based business. Ram Trucks and Chrysler do this quite well and we are very excited to be using this chassis.
Chrysler for Work Blog:  What components of the Ram ProMaster make it a great candidate for a broadcast vehicle?
Tom Jennings: The Ran ProMaster is an extremely well suited platform for our industry.  Even in the standard headroom version, the truck allows us 65" of interior headroom without a costly Hi-top conversion and allows us to keep the overall profile extremely low (under 10'). Our experience with high-headroom chassis in the communications segment is that they should be kept below 10' or become subject to unanticipated "low height clearances" damaging expensive roof mounted payload.  Lastly, the vehicle has an extremely low step in height and impressive payload capacity compared to other trucks in its class.  Broadcasters love to load their trucks up with equipment and we are very comfortable the truck will live well below its GVWR using the Ram ProMaster.
Chrysler for Work Blog:  Since the company started in 2010, what has been the most unique job or profession that you've ever had to upfit a vehicle for?
Tom Jennings: While AMT was founded in 2010, we have more than 40 years of experience in this segment.  Our primary market is broadcast, but we are routinely asked to build communications vehicles for homeland security, state and local governments and border patrol that utilize similar technologies for various applications.  The nature of our business is entirely custom and they all have unique characteristics.  The trucks are mobile broadcast studios on wheels and we treat them like our children.  They are in use by every single broadcast network in the US and in 10 other countries as well.
If you are interested in transforming your work vehicle into a mobile communication hub, a Chrysler BusinessLink® representative can to help you find a specialized upfitter like Accelerated Media Technologies. To locate the Chrysler BusinessLink® dealer closest to your business, visit the Chrysler Commercial Vehicle website.