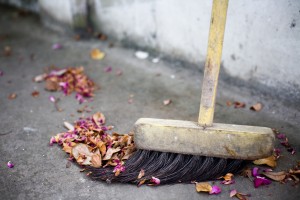 With spring here, it's time to think about cleaning more than just your windows and patio furniture—it's time to focus on your small business.
Here are some tasks you should put on your small business spring cleaning checklist.
Update Your Website
More and more people are relying on the Internet, and especially their mobile devices, to help them make educated purchasing decisions. This spring, roll up your sleeves and refresh your small business's website and social media pages. Some things to keep at the top of your priority list should be to:
        Make your website mobile-friendly
        Make sure all contact information and hours of business are up-to-date
        Remove dead links
        Integrate social media buttons
Conduct a Competitive Analysis
When customers take to the Internet in search of a particular good or service, they instantly compare you against other small businesses and big box companies in the area. It's smart to evaluate what the competition is doing and figure out how much of the overall conversation can be linked to your business. You can do this easily with the Perch App, a free mobile application that gathers reviews, social posts and promotions of your competition all in one place. Learn from your analysis, and consider implementing some changes to stay competitive.
Back Up Important Files
Take the time to back up your files to an external hard drive or to a cloud system. This way, you won't lose materials and will have access to your information anywhere, anytime.
Service and Detail Your Work Vehicle
This spring take the roads with confidence by detailing the interior and exterior of your work vehicle, especially if your car has been exposed to high levels of salt throughout the winter. Spring is also a good time to visit your local Chrysler BusinessLink® Dealer and take advantage of the free gas- or diesel-engine oil and filter service part of our On The Job™ Incentives.