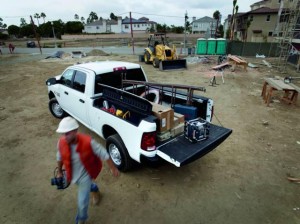 Here at Chrysler Commercial Vehicles, we salute the hardworking spirit of the tradesman and understand that having a dependable tool for the job is essential to business success.
In an effort to deliver greater productivity to small business owners, we've joined forces with Bosch Power Tools to offer business customers and BusinessLink® members a $500 Bosch Power Tool Package as part of our On The Job® Incentives. When you purchase select 2014 Ram Trucks vehicle, you become eligible to take one of these four Bosch Power Tool Packages at an unbeatable price: free.
• 4-Piece 18V Cordless Combo Kit (Drill/Driver, Reciprocating Saw,
 Impact Driver, Flashlight)
• 4-Piece 18V Cordless Combo Kit in a Click & Go Storage System
• 10" Jobsite Table Saw
• 12" Slide Miter Saw
Experience the passion of a tradesman in this inspiring video from our partners at Bosch Power Tools.
See how On The Job® allowances, including the Bosch Tool packages, work hard to make your job easier and your business more profitable at ChryslerCommercialVehicles.com.