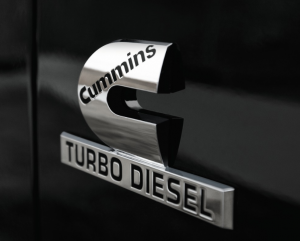 Cummins + Ram Heavy Duty. Add the two together and you've got more than two million trucks with outstanding power — a remarkable figure that sums up the quality and durability of this working partnership. Today we're celebrating the 25th anniversary of this powerful collaboration that has produced more best-in-class titles than any other pickup truck.
When first introduced in 1989, the Dodge Ram 3500 with the 5.9-liter Cummins Turbo Diesel engine produced 160 horsepower and 400 lb.-ft. of torque. Today's 6.7-liter Cummins Turbo Diesel available in the Ram 2500 and 3500 Heavy Duty pickups and Ram 3500, 4500 and 5500 Chassis Cab trucks delivers capability and strength that are that are second-to-none.

Ram 2500/3500 Heavy Duty:
Power – 850 lb.-ft. of torque
Towing – Up to 30,000 pounds with Ram 3500
Towing – Up to 17,970 pounds with Ram 2500
Payload – Up to 7,320 pounds with Ram 3500
Capacity – Gross Combined Weight Rating (GCWR) of 37,600 pounds with Ram 3500
Chassis Cab:
3500 GCWR of up to 30,000 pounds and max trailer weight of 22,750 pounds
4500 GCWR of up to 32,500 pounds and max trailer weight of 24,650 pounds
5500 GCWR of up to 37,500 pounds and max trailer weight of 29,600 pounds
"The Cummins and Ram Truck partnership has created a legendary package over the last 25 years and we appreciate their continued loyalty to Cummins," said Dave Crompton, Cummins vice president and general manager – engine business. "This commitment to our partnership allows us to focus on delivering best-in-class performance, reliability and durability for the heavy-duty pickup market. The Cummins and Ram brands continue to provide a terrific combination for our customers."
For more information on the Ram Heavy Duty Truck lineup, visit our website or stop by your closest BusinessLink® Dealer.