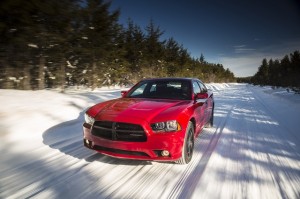 With each new year comes the promise of a clean slate and the chance for everyone, even small business owners, to break certain bad habits and to establish other, more productive ones.
This year, The Working Blog wants to remind you that work vehicle maintenance isn't just about nuts, bolts, spark plugs and gaskets, it's also about performing easy routine tasks that can help preserve the capabilities of your work vehicle well into the future.
Change Your Oil Regularly
Current-model Chrysler Group vehicles are equipped with an automatic oil change indicator system to monitor your oil life and inform you when service is due. However, even the best indicator systems are ineffective when the indications are ignored. Be sure to heed all notifications the systems gives—sooner rather than later. Good service habits include punctuality and will help maintain performance and extend vehicle life.
Keep Your Vehicle Clean
Regular washing not only saves wear and tear on your vehicle's finish, allowing the paint to keep its shine longer, it also lets potential customers know that you pay attention to the details and that you care how things are done. Just be sure to use quality products designed for automotive finishes—for example, Mopar Car Wash Concentrate—and remember, a clean work vehicle is a happy work vehicle.
Check Tire Pressures Often
Even if your Chrysler Group vehicle is equipped with a Tire Pressure Monitoring System (TPMS), it's still a good idea to check the pressure manually—say, every other fuel fill-up. The recommended pressures for your vehicle can be found inside the driver's door. Remember: The importance of proper tire pressure cannot be overstated. Inflation has a direct effect on the life of your tires, the life of your suspension and, ultimately, the life of your vehicle.
Overall, our advice is simple: Take good care of your Chrysler Group vehicle, and your Chrysler Group vehicle will take good care of you, throughout 2014 and beyond.