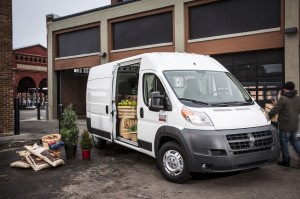 How do you complete six big home revitalization jobs in just six short days? One way is to team up with a charitable organization to outfit a group of skilled tradesmen with capable work vehicles and an army of willing volunteers. That's the strategy adopted recently by Ram Commercial, who, in addition to helping plan the event, contributed several new work vans to the cause.
Of course we all know that without great volunteers working under the supervision of skilled tradesmen, completing even one job in six days would not be possible. Nevertheless, Ram Commercial was happy to do its part by providing a fully outfitted Ram cargo van to each tradesman—a Ram ProMaster or Ram C/V, depending on the tradesman's needs.
What follows here is the first batch of videos in the series created from the six-day event. Beginning with an event overview, continuing with roofing- and plumbing-related videos, and closing with a video featuring an appliance delivery service, we hope this series shows off the capabilities of the Ram Commercial vehicles but, more importantly, that it inspires you to use your own skills, whatever they are, for the good of your community.
Ram Commercial | The Right Van for the Job (Overview)
Ram Commercial | The Right Van for Roofing (Day 1 of 6)
Ram Commercial | The Right Van for Plumbing (Day 2 of 6)
Ram Commercial | The Right Van for Delivery (Day 3 of 6)
Stay tuned to The Working Blog for the final installment in the "Right Van for the Job" video series. In the meantime, please visit the Ram ProMaster page on the Ram Trucks Website.