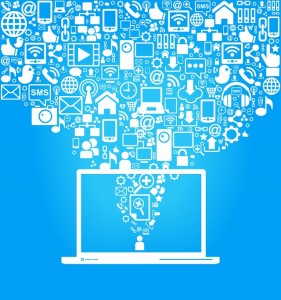 In part one of this series, we made the case for treating your business's blog and Facebook page not as independent platforms for relaying the same basic message, but as complementary parts in a cohesive social media strategy. In part two, we show you how that's done.
Follow these simple steps for effectively sharing your latest blog post with your Facebook audience.
Step 1: Write and publish an interesting blog post
Remember, on any social media channel, whether it's a blog, Facebook, Twitter or anything else, content is king. Just having a post is not enough; your post must be of some value to your audience.
Revisit our initial "How to Blog" post for more insight on creating interesting, engaging blog content.
Step 2: Create a shortened URL for your published blog post using bitly.com
If you arrived at this blog post via Facebook or Twitter, you clicked a custom-made URL to get here. This is a called a bitly link. It's made up of 20 or so characters, and clicking it will always lead to the original URL for which it was created—in this case, a blog post.
Using bitly links on Facebook is a good choice for two reasons. First, they help you track how many times people have clicked a specific link, information that can be used later on to assess performance. Second, they can potentially make your Facebook post more pleasing to the user's eye. For more on this, see the note in Step 4.
Step 3: Write a relevant status update for Facebook
The Facebook update announcing your new blog post should set the right expectations for your readers. Let them know in as few words as possible what the post is about. Then, end the update with a clear call to action: "Learn more on our blog," for example.
Step 4: Attach the bitly link
Facebook makes it very easy to include a link in any update. Simply paste the custom-made bitly link in the same text box where you composed your update. A preview of the post will appear automatically. If you decide you want to keep this preview, you can choose to delete the bitly link (don't worry, the preview will remain), and then you can either "post" now or schedule for later.
You also have the option of removing the preview. If your call to action is strong enough, readers will know to follow the bitly link to your blog. With the preview now gone, you can fill the space with an image or picture of your choice, hopefully one that readers find enticing.
Note: Using bitly links in Facebook updates is superior to using the original URLs, which tend to be very long, cumbersome and not pleasant to look at. A bitly link, in comparison, takes up less space, which is to be valued in a Facebook post.
Step 5: Link to your blog often, but not exclusively
A solid Facebook strategy, while part of a bigger, cohesive social media strategy, will call for posts that don't always link to other properties of the business, like the blog or website. Be sure to post photos or questions or otherwise interesting content that your audience can engage with directly on Facebook, as opposed to leading them away to other pages.
How do you incorporate Facebook and the blog into your marketing strategy?
The steps we've listed here are just one way of doing things. If you've developed a different strategy you feel is effective, by all means, please share it!