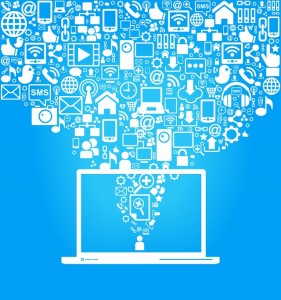 We've written in the past about the value of maintaining an up-to-date Facebook page for your business. Likewise, we've offered our two cents on the value of having a blog, suggesting, for example, that regular blogging helps prospective new customers discover your goods and services through key word searches.
However, one shouldn't think of these two activities as mutually exclusive. When paired together as part of a comprehensive social media strategy, your brand's Facebook page and blog can complement each other beautifully, one platform stepping up where the other falls short, and vice versa, with the outcome being a greater hold on your audience's attention, and multiple, but not redundant, ways of speaking to your fans.
For long content, the advantage goes to blogs
Although Facebook sets their character limit at more than 60,000 characters, meaning that status updates are functionally limitless, experts suggest limiting posts to a single sentence or two. Big blocks of text tend to get overlooked or are simply ignored by Facebook users, who expect and therefore respond better to shorter messaging.
A blog, on the other hand, is the perfect platform for long-form content, offering bloggers the ability to create dynamic, engaging posts that can benefit from the inclusion of multiple images, YouTube or Vimeo videos and, of course, as much written content as the blogger can muster.
This is not to say that the quantity of words directly corresponds to the quality of post. Having something worth sharing and sharing it in the fewest words possible is a rule that holds just as true for blogging as it does for Facebook. But a business owner—a caterer, for example—who wants to share a recipe or explain his/her process or position him/herself as an industry expert will appreciate the added space afforded by blogging.
For broadcasting content, the advantage goes to Facebook
While a blog is the perfect home for longer, more in-depth content, Facebook is an exceptional platform for broadcasting (through links) the fact your blog post exists. Credit this to extremely active users and their tendency to share content with their friends. And while it's true that in time your blog may develop an audience of subscribers, by regularly posting links on Facebook to specific blog posts, you remind your Facebook fans that you have a blog and that you are indeed an expert. Most important, you make these two facts easier for your fans to share to their networks.
Just be sure to employ best practices for linking to your blog from Facebook. Tune in next week to The Working Blog and part two of "Small Business Social Media: Using Facebook and Your Blog Together" for a general set of posting guidelines.