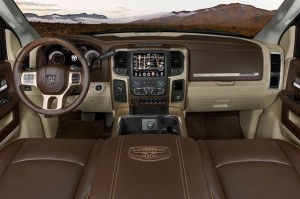 Do you spend your work day on the road, hauling and towing your way to an honest living? If so, you know that your truck is more than just a workhorse, it's your office and, sometimes, a home away from home. That means your truck needs to perform double duty as an efficient and comfortable workspace. Well, hold all calls, because behind the wheel of a Ram truck you're a boss of the highway.
To keep you warm on those long winter drives, the Ram 2500 and 3500 feature independently heated front seats, as well as available dual-zone temperature control and a heated steering wheel. And, if your trip is particularly long or if your truck has multiple drivers, our memory system will save your seat, mirror and pedal position—even your preferred radio stations.
Comfort aside, Ram Trucks is prepared to help you do business on the road. Uconnect™ WiFi* and Media Centers keep you connected from remote locations, helping you communicate with clients and business partners and make important decisions via Uconnect Voice Command with Bluetooth®. Should you need to conduct private meetings while traveling, triple-sealed doors keep the cabin quiet, and the Soft-Touch Dashboard and 120-volt plug will hold and power your electronic equipment so you never miss a beat.
Additionally, the storage capabilities of the Rambox® Cargo Management System will keep the tools of your trade safe and secure, while keeping the office space of your interior cabin as tidy as can be. Just because you're on the road, after all, doesn't mean you can't stay organized. A boss's office should look the part, don't you think?
Remember, the Rambox Cargo Management System is a perfect place to store your new Bosch toolkit, available free of charge to those who take advantage of our On the Job Incentives. Visit the Chrysler Commercial Vehicles website to learn more.
* Available through Mopar®