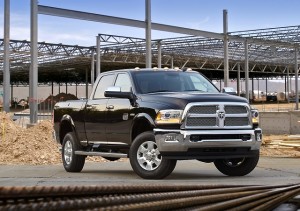 Ask anybody their favorite season and invariably they'll respond by naming fall, winter, spring or summer. Factor in the abundance of yearly sub-seasons—football season, baseball season, hunting season and so on—and the question becomes more difficult. But here at The Working Blog, the question is an easy one. Our favorite season is the one devoted to the highly capable, built-for-work, up-to-any-job vehicles otherwise known as Ram Trucks.
This year, Commercial Truck Season kicks off with a number of special incentives for select vehicles in the Ram Trucks lineup. Note that these special incentives are in addition to the regular On the Job™ incentives always available to small business owners, things like a $1,000 upfit allowance or up to $1,000 for vehicle wrapping.
Special Incentives for Commercial Truck Season
$500 cash allowance for 2013/14 Ram Chassis Cab, featuring best-in-class max towing capacity and 50,000 PSI rear frame strength
$500 cash allowance for 2013/14 Ram ProMaster, featuring best-in-class payload and 14 available configurations
$500 cash allowance for 2013/14 Ram C/V, featuring a best-in-class driving range of 500 miles and 155.5 cubic feet of cargo space
Chrysler Commercial Vehicles is pleased to report the availability of an additional $500 incentive for 2013/14 Ram Heavy Duty trucks that come equipped with the Snow Plow Prep Package.
All special incentives, along with Commercial Truck Season, end on January 2, 2014. The capability of Ram Trucks, on the other hand, will remain on display all year long.
Visit the Chrysler Commercial Vehicles website to begin selecting the right truck for your business.