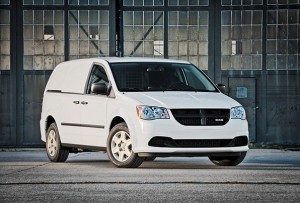 If work trucks were people, the 2013 Ram C/V would be a jack of all trades, reliable and trustworthy, happy to quietly go about its business, not in the shadows necessarily, but away from the spotlight shining (deservedly so) on the larger personalities on the crew: the award-winning 2013 Ram 1500, the 2014 Ram 1500 EcoDiesel and the 2014 Ram Heavy Duty.
Far from playing second fiddle to any of its counterparts in the Ram Trucks lineup, however, the Ram C/V can boast its own fair share of best-in-class features, including:
Best-in-class horsepower and torque with the Pentastar® V-6 engine
Best-in-class cargo space (155.5 cubic feet), a major highpoint in a segment where empty, fillable space is among the most desirable features
Best-in-class cargo length, accommodating materials up to 4×8 feet
Best-in-class 5-year/100,000-mile powertrain warranty
It's important to note that Ram C/V offers small businesses many competitive advantages. Among them, the cargo van provides a best-in-class 1,800-pound payload and category-exclusive towing capability, up to 3,600 pounds. With a 20-gallon fuel tank and an EPA-estimated 25 miles per gallon (mpg) highway, Ram C/V also delivers a best-in-class fuel range of up to 500 miles.
These numbers, as impressive as they are, can only tell so much of the story. Please watch the video below for a real-world example of how the Ram C/V can be a benefit to your small business.
Find out if the 2013 Ram C/V is the right vehicle for your small business; schedule a test drive at your closest BusinessLink® dealer.