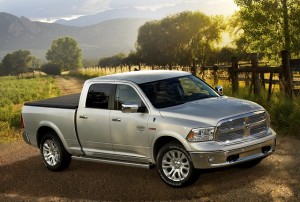 You may have heard the news already. Personally, we think it's worth repeating.
In model year 2014, Ram Trucks will become the first vehicle manufacturer to offer a diesel-powered light-duty (half-ton) pickup truck. The 3.0-liter EcoDiesel V-6 engine joins the award-winning Pentastar® V-6 and the legendary 5.7-liter HEMI® V-8 as one of three available engines for the 2014 Ram 1500, creating in the process an unmatched trifecta of light-duty powertrains ready to hit the road in the next model year.
For small business owners, the benefit of having three available engines to choose from is just exactly that: choice. Because every business is different—with needs completely individualized not just to the type of work (say, lawn care) but to location, size, scope and on and on and on—every business needs to be able to customize its cache of "work tools" as much as possible. With tools like the new 2014 Ram 1500, that kind of customization is entirely possible.
Also in 2014, all three available Ram 1500 engines will be mated to the TorqueFlite® 8 eight-speed transmission, with each transmission-engine combination offering slight variations on the capability that the Ram Trucks brand is known for and that small business owners need.
For instance, the new EcoDiesel engine is a turbocharged 60-degree, dual-overhead camshaft 24-valve V-6 that produces 240 horsepower and 420 lb.-ft. of torque. The class-exclusive small displacement turbo diesel engine delivers a best-in-class combination of torque and fuel efficiency, music to the ears of any small business owner looking to strike the right balance between brute force and efficiency.
This is not to say that the fuel-efficient Pentastar engine lacks power or that the powerful 5.7-liter HEMI engine is inefficient. It's just the opposite, in fact. Thanks to advances in technology, the Pentastar engine features 42 percent more horsepower (305 total horsepower) and 13 percent more torque (269 total lb.-ft. of torque) when compared the previous 3.7-liter V-6 engine.
As for the HEMI V-8, it benefits from first-in-segment Fuel Saver Technology, not to mention advance design features like active aerodynamics and class-exclusive air suspension, all of which help ensure that the great power of the truck (395 horsepower, 410 lb.-ft. of torque) does not come at too heavy of a cost to overall fuel efficiency.
Stay tuned to The Working Blog for more news regarding the 2014 Ram Trucks lineup. When additional information becomes available, we'll be sure to pass it along.