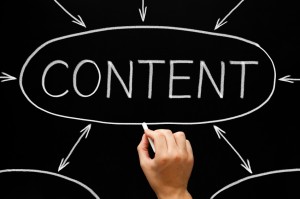 Hopefully, you've been following our ongoing "Small Business Social Media 101" series. We've detailed how (and why) to set up accounts for your business on Twitter, Facebook, Pinterest and LinkedIn and how to set up a blog. However, none of those social media accounts matter if you're missing one thing: awesome content.
Why
Regularly publish that awesome content, and you will likely find that your customers start spending more money at your business while simultaneously demonstrating a deeper emotional commitment to your business.
Without interesting and engaging text – whether in the form of a blog post or a tweet – search engines won't be able to find you and index your content.
How
Solve a problem: If you sell a product or a service, your customers are looking to you to solve a particular problem. Demonstrate how your business solves that problem. Create a photo-based how-to guide, featuring a satisfied customer who used your product or service in a way that best demonstrates the value of what you offer.
Be the resource: Your social media content shouldn't purely focus on your products or services. Instead, regularly post about issues facing your industry or your customers, and write from the expert point of view – without tying it directly to what you're selling. If you can establish yourself (and your business) as an expert without having to cram a sales pitch down a reader or follower's throat, you can build organic trust with potential customers. When it comes time for them to consider a purchase, you'll be at the top of the list.
Use rich media: Always include photos, videos or other forms of rich media in your social media content. A striking or interesting image can entice a reader to click on or continue reading better than text. Text is essential, obviously, but bolstering your text with other types of media is even better.
Connect: Small businesses are the backbone of local communities. Not solely driven by profit, they provide connections between local businesses, organizations and other community groups that enhance everybody's well-being. So shed light on that. Whether you feature a partner company, a non-profit or a local cause, putting the greater community in the spotlight is a great way to situate your business within your community as a whole.
If you have any questions or comments, you can always reach out to us across any of our social media channels – Twitter, Facebook, and Google+.
---