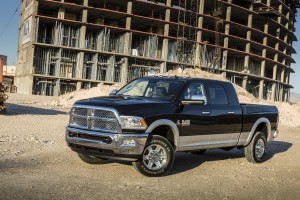 The human capacity for problem solving is seemingly infinite. Be it a major hurdle or a tiny hiccup, the human mind can assess the situation, formulate a plan and then follow that plan through to a fitting resolution. Of course, it goes without saying that any problem, especially one on the jobsite, is more easily solved when the right tool is available. Enter your friends at Ram Commercial and Bosch Tools.
The Ram Trucks brand prides itself on offering a Heavy Duty lineup perfectly suited to the needs of any of the "Heavy Duty" professions, from construction to landscaping, from roofers to general contractors. Each truck, though built to the same exacting standards of quality and durability, varies slightly when it comes to capability, thereby ensuring that the right truck – a.k.a. the right tool – is always available for your "problem-solving" needs. For instance:
The Ram 2500 – With a maximum towing capacity of 18,350 lbs. and a maximum payload of 3,170 lbs. (when properly equipped), the 2013 Ram 2500 delivers best-in-class maximum towing capacity. It's the perfect truck for a landscaping and lawn care business, capable of carrying equipment and towing a trailer with about as many mowers as needed.
The Ram 3500 – The 2013 Ram 3500 Heavy Duty offers numerous engine and transmission combinations, allowing general contractors and construction crews to configure their powertrain for their work.
Ram Chassis Cab – Maybe you need something customizable and upfit-ready. Of course the 2500 and 3500 models give you a plethora of upfit options, but the Ram Chassis Cab lineup might have what you need. From the Ram Chassis Cab 3500 Tradesman® to the Ram Chassis Cab 5500 Laramie®, the entire lineup of Ram Chassis Cab trucks can go to work – and be customized exactly how you need, for what you need.
Like Ram Trucks, Bosch Tools is devoted to producing quality tools suited to any job. And, considering how even the most traditional jobs (think carpentry) are continuously evolving to meet modern conditions, so too does the Bosch lineup of tools evolve to meet the modern professional's demands. Here, for example, are just a few of the newest tools to join the already impressive Bosch Tool catalog.
DH507 12-lb SDS-max Demolition Hammer – Capable of controlled chiseling in tight spaces or in a variety of positions, this new demolition hammer from Bosch features an ergonomic grip area and which includes the hammer tube and side handle, helping to get the job done with added comfort.
A new line of Bosch Small Angle Grinders – The new line of Bosch Small Angle Grinders features superior user and tool protection, a toolless adjustable guard, a multi-grip paddle switch and an ergonomic shape to increase comfort during extended grinding applications.
Stay tuned to the Chrysler for Work Blog for more great things from Ram Trucks and Bosch Tools.