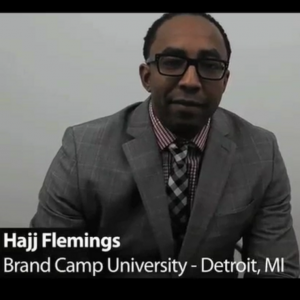 Every Friday on The Working Blog, we publish another entry in our "Real People, Real Businesses" series. We're featuring YOU, the small-business owners and the real drivers of the economy. Why did you start your small business? What makes you tick? Why are small businesses so important?
We'll also feature insightful guest posts from thought and industry leaders and BusinessLink® dealers from around the country who partner with and add value to small businesses.
We're always open to meeting new people and connecting with real businesses across the country. If you'd like to be featured in our "Real People, Real Businesses" series, you can easily reach out to us on Twitter or on Facebook! We'd love to talk.
Today, we're featuring Hajj Flemings, personal brand strategist, speaker and founder of Brand Camp  University. Flemings is a renaissance man, an engineer and designer who worked for sneaker and automotive companies before focusing on what was his "side project" at the time: Brand Camp.
Brand Camp is the product of Flemings' tireless support of entrepreneurial individuals and personal branding. What started as a Detroit-based conference has sprouted into a nationwide conference series in cities like New York, Austin, Boston and Las Vegas. Flemings attracts thought leaders, technologists, creatives and influencers to create communities centered on discussions of branding, entrepreneurship and technology.
Watch as we sit down with Flemings to talk about his path to founding Brand Camp, the importance of small businesses and why failing fast (and failing forward) is a good thing for a small business owner. Finally, Flemings discusses how driving the right vehicle for work makes a public statement and communicates what a brand is about.