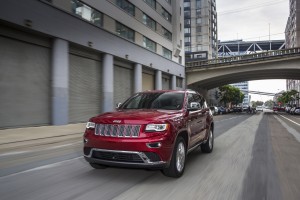 Some of the biggest news from the world's most important auto show came from the Jeep® brand this year. The Jeep brand debuted the 2014 Jeep Grand Cherokee at the North American International Auto Show, taking the industry's most acclaimed SUV to an even higher level. But that's not all. Small business owners and efficiency-conscious drivers were most excited about the announcement that an available clean EcoDiesel engine model will go on sale later this year.
The folks who drive their vehicles for work know it better than anybody – increasing fuel costs can put a huge damper on business. So, too, can the constant stop-and-go nature of refueling and servicing a vehicle. The 2014 Jeep Grand Cherokee is designed to keep you on the road longer, meaning it makes the perfect small business vehicle.
The 2014 Jeep Grand Cherokee with the new 3.0-liter EcoDiesel V-6 engine and new eight-speed transmission delivers a best-in-class 30 miles per gallon highway. What does that amount to? A driving range of more than 730 miles. And fear not – the Grand Cherokee doesn't sacrifice capability for fuel efficiency. The engine produces a class-leading 240 horsepower, 420 lb.-ft. of torque, and the vehicle is capable of towing a best-in-class 7,400 pounds.
The 2014 Jeep Grand Cherokee with an available clean EcoDiesel V-6 engine is the Jeep vehicle that consumers and small business owners have been waiting for. When your small business depends on a vehicle, capability and fuel efficiency are of the utmost importance. That's why we're offering the 2014 Jeep Grand Cherokee with an available EcoDiesel engine.