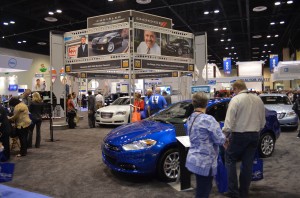 This past weekend, we were fortunate to attend one of the biggest and most important gatherings of Realtors® in the country: the 2012 National Association of Realtors Conference & Expo in beautiful (and sunny) Orlando, FL. We left the Orange County Convention Center with sore feet, a ton of footage, and, most importantly, great conversations with real estate agents from across the country. Our takeaways?
The Drive to Close
A common theme that we picked up on was just how important driving the right vehicle is in the real estate business as a whole, in any market. We met a mother and daughter team that runs a sign business. For them, Ram trucks get the job done – they're reliable, capable, and, with their vehicle wrapped, a great advertisement for their business.
We met Realtors who began using the Chrysler 300 to show around prospective clients and never looked back, thanks to its elegant styling, ample cargo space, and luxurious interiors. We met others whose preferred vehicle is the Jeep Wrangler Unlimited, thanks to its capability and reputation for fun (one Realtor in particular said that prospective clients love driving around his vacation home properties in his Jeep Wrangler – what could be more fun?).
Realtors Love the Chrysler 300
The Chrysler Commercial Vehicles display on the convention hall floor featured a wide variety of vehicles to showcase the versatility that Realtors can find in our lineup. The Ram 1500, Jeep® Grand Cherokee, Dodge Durango, and Chrysler 200, among others, shone brightly throughout the Expo. But it was definitely the Chrysler 300 that garnered the most attention – both from soon-to-be buyers and current drivers. Positioned in the center of our display, the vehicle drew a constant stream of attendees, inspecting its every contour, its spacious interior, and even the trunk (which is big enough to hold real estate signs).
There was another reason that the Chrysler 300 was on everybody's mind at the Orange County Convention Center. In partnership with Chrysler Commercial Vehicles, Wells Fargo held a drawing to win a brand new, 2013 Chrysler 300C. Throughout the event, attendees clamored for entries into the drawing (and we can't blame them). One lucky Realtor ended up very, very happy. The others? They got a taste of what driving a Chrysler 300 could do for their business.
Looking Towards the Future
We felt a sense of optimism throughout this year's event, hopefully a sign of what's to come in the real estate industry and the market in general. We are certain of a few things: Chrysler Commercial Vehicles is a great supporter of Realtors nationwide, and that partnership will only get stronger. This is one relationship that we don't want to close.
Members of the National Association of Realtors can be eligible for a $500 incentive towards the purchase of a Chrysler Commercial Vehicle. And be sure to visit The Working Blog for more Realtor-driven articles.