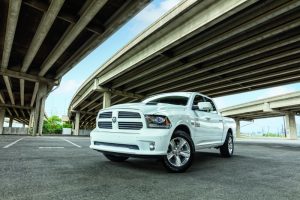 By Chris Borczon, Commercial Vehicle Team, Ram Trucks
Touting the latest and greatest technological achievements has long been – and probably always will be – an important part of vehicle marketing. Automakers spend money, and lots of it, attempting to make the public aware of how a current model-year vehicle improves upon previous models and, more importantly, how this or that nameplate outperforms the competition.
While there are clear differences between, for instance, the 2017 Ram 1500 and its competitors, there are also common and identifiable trends general to the industry. If you're in the market for a new car, truck or minivan, having even a basic knowledge of these trends can simplify the buying process, making it easier to determine which features are industry standard and, conversely, which features really help set a vehicle apart.
Here's a closer look at two specific trends that should be on your radar if and when you begin the vehicle buying process – namely, the recent, continuous improvements in fuel economy and the growing availability of in-vehicle Internet connectivity.
Fuel Economy
Versus

Plus Capability

We all know the cost of fuel fluctuates. What seems stable is the fact that modern vehicle buyers, no matter their vehicle of choice, want more miles for their money. In a win for all drivers, better fuel economy is now available without the drastic tradeoffs in capability that once existed.

Developments in powertrain technology (engine + transmission) in conjunction with advancements in vehicle design and engineering (think aerodynamics) are making it so that a pickup truck, for example, can impress at the fuel pump and also attain respectable towing and hauling numbers. In fact, it's to the point now that a light-duty pickup truck can push highway MPG into the mid 20s, and in some cases even higher, all while delivering the kind of performance capabilities truck owners still want and need.

This is not to say there are no tradeoffs whatsoever. Light-duty pickup trucks that achieve above-average fuel economy often do so by implementing smaller engines, lighter vehicle components and sometimes both. While today's advanced engineering processes ensure that even smaller engines keep pace capability-wise with the power plants of yesteryear, stepping up in engine size or to the Heavy Duty truck category may be necessary for buyers who, for instance, tow especially heavy equipment for the job. Still, in relation to their predecessors, even trucks in 2500 and 3500 series (i.e., Heavy Duty) can impress in terms of fuel economy.
Access the Internet from (Almost) Anywhere
Many of us remember when access to the Internet was limited to a dial-up connection on a single prehistoric computer at home. These days the story is much different. Internet access is available through Wi-Fi connections almost anywhere you go, from coffee shops to airports to shopping malls and even the grocery store. As ubiquitous as it seems currently, the trend is toward even more connectivity, as more and more vehicles are offering Wi-Fi as an option.
Dependable transportation that doubles as an Internet hotspot is no mere novelty. Professionals of all types will appreciate the convenience of conducting business from the road (or safely parked alongside it, we should say). The subscription-based Wi-Fi option provides Internet service comparable to that of the home or office, allowing for the smooth operation of email, browsing and streaming services from a connected tablet or laptop, and ultimately bringing new meaning to the idea of mobile computing.
Even without a Wi-Fi subscription, many of today's vehicles still offer an option to stay connected, and a powerful one at that. Available Bluetooth® compatibility allows drivers to pair smartphones with the information/entertainment systems in their cars, trucks or minivans. In many vehicles, the usefulness of smartphone pairing is elevated by voice-activated technology, a safety-related feature that allows drivers to operate certain smartphone functions (hands-free texting, music selection and so on) without ever taking their eyes from the road.
While features like these will eventually find their way into most vehicles, what's really exciting is the idea that no matter what we predict, the future of vehicle technology will most likely exceed our expectations.
Visit a BusinessLink dealership near you to experience in person the exciting new technology available in the work-ready vehicles of FCA US LLC.
Chris Borczon has been with FCA US LLC and its predecessor companies for more than 30 years. He spent much of that time designing multiple systems for truck chassis engineering before moving to his current position on the Ram Truck Commercial Vehicle Team.