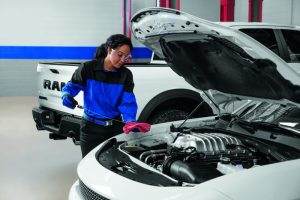 Whether it's having tires rotated at the correct mileage, changing oil at regular intervals or replacing brakes in a timely fashion, there are certain steps you can and should take as a vehicle owner to help avoid preventable and costly issues (quite literally) down the road.
With help from our friends at the Mopar® Brand, we've created a blog series to discuss these basic maintenance strategies in greater detail. Here now is the fourth part in that series. Similar to the first three posts, this installment focuses on the when and why to do things – specifically, when to replace your battery and why to choose synthetic oil.
Why Synthetic Oil?
Description: Did you know that a simple change from conventional to synthetic oil could increase your engine life? How about provide better fuel economy? There are many benefits you could be getting by switching today! Watch to learn about what you've been missing out on with the better protection of synthetic oil.
Battery Replacement
Description: Is your battery losing its spark? A weak battery can put extra stress on your car's charging system, including the starter and motor. That's why it's so important to have your battery tested frequently. Watch and learn 5 tell-tale signs of a battery in need of a replacement.
From your biggest maintenance questions to the most basic, the qualified service technicians at your local BusinessLink dealer would be happy to assist you. Stop by or give them a call today!