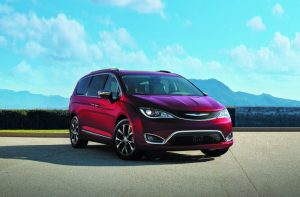 "And the award goes to…"
…More than any other minivan this model year, it's the All-New 2017 Chrysler Pacifica. Its most recent honor, following close behind a North American Utility Vehicle of Year Award, is "Best of 2017," a title bestowed on it by editors at Cars.com.
Re-engineered from the ground up, the All-New 2017 Chrysler Pacifica is the first minivan to win the Cars.com "Best of" award. Cars.com editors determined that the Pacifica compares favorably to other all-new or fully redesigned 2017 model-year vehicles in terms of quality, innovation and value. The award was announced at the annual Cars.com Best of Awards show hosted in Detroit during the North American International Auto Show.
Reinventing the minivan segment with an unprecedented level of functionality, versatility, technology and bold styling, the All-New 2017 Chrysler Pacifica offers more than 100 standard and available safety and security features. To be sure, this is a no-compromises minivan, ideal for today's families and business owners alike, as evident in the video below.
Is the All-New 2017 Chrysler Pacifica right for your business? Visit a BusinessLink dealer near you to find out!