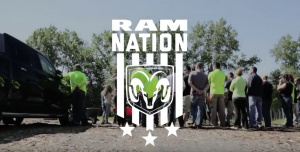 While holidays come and go, giving thanks and giving back are never out of season.
This statement is true for many of us here at FCA US LLC, and it's especially true for Ram Nation, the group of Ram truck owners, employees, enthusiasts and celebrities who come together to help out in their communities whenever need and circumstances dictate.
In fact, the following three videos, although filmed in late 2016 (over the holidays), reveal the true, year-round spirit of Ram Nation, i.e., a willingness to lend a hand when others are in need. Please enjoy.
#RamGivesThanks | Maddie & Tae
#RamGivesThanks | Craig Campbell
#RamGivesThanks | Easton Corbin
Visit the official Ram Trucks website to find out how you can make a difference by volunteering in your community with Ram Nation.