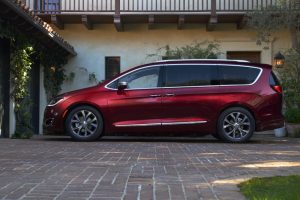 Talk about overachieving. Despite being relatively new to market, the All-New 2017 Chrysler Pacifica has already collected more than 20 awards, honors and distinctions.
One of its most recent distinctions – a Top Safety Pick+ (TSP+) rating from the Insurance Institute for Highway Safety (IIHS) for 2017* – is noteworthy for two reasons. First, the distinction marks the second time the exciting all-new minivan from the Chrysler Brand has earned the TSP+ rating (the first was for 2016). Second, the All-New Chrysler Pacifica is the only minivan to earn the distinction for 2017.
Top Safety Pick+ status is contingent on achieving ratings of "good" in five IIHS crashworthiness evaluations. The Chrysler Pacifica achieves "good" – the highest possible rating – in each. The tests simulate:
A side impact with a large SUV or pickup truck
A moderate-offset frontal impact
A small-offset frontal impact
Roof-deformation consistent with a rollover
A rear collision capable of inducing whiplash.
Crash tests were not the only category in which the Chrysler Brand's all-new minivan excelled. The vehicle's available Automatic Emergency Braking (AEB) system (named Forward Collision Warning Plus† on Pacifica) earned a rating of "superior," the highest possible grade awarded by the IIHS for this technology and another prerequisite to achieve TSP+ status.
The TSP+ rating complements the 5-star overall safety rating the Chrysler Pacifica achieved in testing by the U.S. National Highway Traffic Safety Administration. Both ratings further solidify the Chrysler Brand's place as leader and innovator in the minivan segment.
Visit a BusinessLink dealer near you to learn more about the award-winning and All-New 2017 Chrysler Pacifica.
*When equipped with available advanced SafetyTec™ Package on the Limited trim for models built after August 2016.
†This system is an alert system for the front of the vehicle. It is not a substitute for active driver involvement. The driver must remain aware of traffic conditions and be prepared to use brakes to avoid collisions.