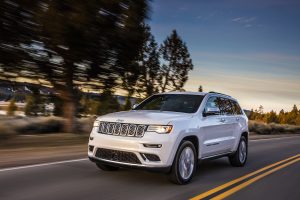 Five vehicles from the FCA US LLC lineup have earned a five-star overall safety rating from the U.S. National Highway Traffic Safety Administration (NHTSA). The ratings prove once again that safety and security is priority number one here at FCA US LLC.
Joining the 2017 Jeep Grand Cherokee 4WD (pictured) on the NHTSA's list of five-star-rated vehicles is the All-New 2017 Chrysler Pacifica, the 2017 Chrysler 200 (FWD), the 2017 Dodge Challenger and the 2017 Dodge Charger (AWD and RWD). The five stars each vehicle has earned for model-year 2017 is the highest single rating in NHTSA's vehicle-evaluation program.
The overall ratings also reflect strong performances (four or five stars) in individual NHTSA tests that simulate the following.
Frontal collisions with another vehicle
Side impacts with another vehicle
Rollover resistance
This marks the fourth consecutive year the Jeep Grand Cherokee has earned the five-star distinction. While impressive in its own right, the iconic SUV still has ground to make up on the Dodge Charger, which has earned five stars every year the NHTSA has included it in its annual rating – an astounding ten times in a row.
As for the Chrysler Brand, these latest test results from the NHTSA complement the Top Safety Pick+ rating previously given to the 2016 Chrysler 200 and 2017 Chrysler Pacifica by the Insurance Institute for Highway Safety*.
Visit a BusinessLink dealer near you to you to learn more about the full lineup of vehicles available from FCA US LLC.
* Designation applies to any 2017 Chrysler Pacifica produced after August 2016.