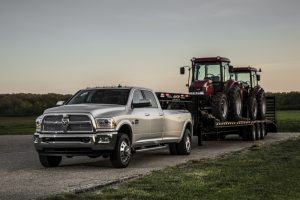 Nowhere is it written that hard-hat professionals must choose between capability and luxury when in the market for a new work truck. Maybe at one time, years ago, it was true that a vehicle especially proficient in the performance category would be altogether lacking in terms of interior comfort. But what was true back then is true no longer. For confirmation of that fact we need only turn to today's Ram Heavy Duty lineup of pickup trucks.
Please enjoy the three videos below, which do nothing if not dispel the myth that capability and comfort are mutually exclusive. To put it another way, when it comes to Ram Heavy Duty, you can have a comfortable truck and drive it on the worksite, too.
Ram Heavy Duty | Defined
Ram Heavy Duty | Towing
Ram Heavy Duty | Interior
Schedule an appointment with your local BusinessLink dealer to learn more about the Ram Heavy Duty lineup of trucks.