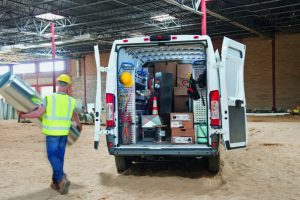 Here at FCA Work Vehicles US, we do our best to stay connected to our partners, from the Plumbing-Heating-Cooling Contractors Association (PHCC) to the National Association of Women Business Owners (NAWBO) to the National Funeral Directors Association (NFDA) and every trade association between.
Most often "staying connected" means keeping a close eye on websites and social channels, watching for updates, blog posts and any other compelling content our partners create. In turn, we make it a point to share relevant news from FCA US LLC whenever it makes sense.
As much as we enjoy engaging with our partners in a virtual environment, nothing beats seeing everyone in person, from an association's leadership to its individual members. That's why each year we attend as many events as we can. After all, what better way to get real, useful feedback on our vehicles than talking face-to-face with the people who drive them everyday?
With that in mind, here are the upcoming association events FCA US will be attending in October. If you're planning on attending as well, stop by our booth to check out our vehicles, learn about incentives and get answers to any questions you may have.
Come check out the latest developments in the plumbing, heating and cooling industry at this year's PHCC CONNECT in San Antonio, Texas (October 19 – 21). Enjoy a reformatted lineup of educational programs, contractor-led sessions and service-focused seminars before browsing countless new tools and strategies during CONNECT's updated Technology Showcase. If you're going, stop by the FCA US LLC area at Booth 501 to say hello.
Educational sessions with industry experts, the world's largest funeral service expo, unique tours and fun social events, an all-star recognition ceremony – attendees will have all of this and more to look forward to at the 2016 NFDA International Convention & Expo in Philadelphia, Pennsylvania (October 23 – 26). If you plan to attend, make a point to stop by Booth 2531 to get a closer look at the all-new 2017 Chrysler Pacifica as well as the Ram ProMaster® shuttle van. We hope to see you there!
Have an event you'd like to share with our readers? Let us know! Share the information in the comments section below.