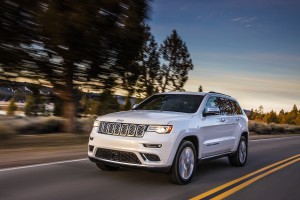 High priority for most small-business owners is the following list of daily to-dos: (1) Get the job done; and (2) Make a good impression while doing it. Although not mutually exclusive, these points are especially well represented by two exciting new vehicle models from FCA US LLC.
At this year's New York International Auto Show, the Jeep® Brand expanded its Grand Cherokee lineup with the introduction of a new Trailhawk model – the most capable factory-produced Grand Cherokee ever. The Brand also introduced the 2017 Grand Cherokee Summit, bringing a new exterior appearance, a luxurious new interior, and even more standard premium features to consumers looking for the ultimate full-size SUV.
"With our new Trailhawk and Summit models, Jeep Grand Cherokee becomes even more capable and more luxurious," said Mike Manley, head of Jeep Brand – FCA Global. "Our Cherokee and Renegade Trailhawk models are among our fastest-selling and most sought-after models, and we are following that successful formula to provide consumers even more legendary Jeep 4×4 capability for Grand Cherokee – the most awarded SUV ever.
"Our new Jeep Grand Cherokee Summit is in direct response to consumers who continue to ask for even more luxury, craftsmanship and standard premium features in a full-size SUV packed with capability," Manley added.
Watch the video below for an early look at these exciting new models from the Jeep Brand. Get a closer look when both the Grand Cherokee Trailhawk and Summit models arrive in Jeep showrooms in late summer of this year.