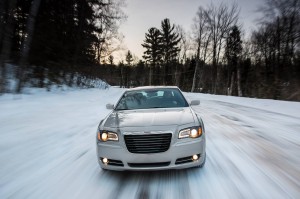 On Wednesday, The Working Blog sat down with Dale Keep, owner ofIce & Snow Technologies, a training and consulting company based in Walla Walla, WA, to discuss ways that business owners can help fight the impact of salt on their work vehicles.

We asked Dale to share with us his best practices for preventing corrosion caused by road salt and how to maintain the overall quality of work vehicles and their equipment.
Here's what Dale had to say:
Good vehicle maintenance is crucial for the vehicle's safe and dependable operation and should be routine regardless of the season. Spring and fall are the two times of the year when greater attention is needed. For the mechanical parts of the vehicle, maintain them regularly, correctly and pay attention to maintenance schedules. A well-maintained vehicle not only looks better but also will provide better service.
Maintenance procedures should include taking steps to keep the vehicle as corrosion free as possible, for both appearance and safe operation. Preventive maintenance for corrosion protection is too often neglected. This can easily be observed by looking at doors, fenders, hoods and tailgates on many vehicles that are susceptible to a lot of moisture and ensuing corrosion. Whenever corrosion is found, it should be dealt with immediately before it spreads.
Fortunately, most Chrysler Commercial Vehicles have undergone significant testing and design related to corrosion protection. However, corrosion care starts with the purchase of the new vehicle. The steps for good corrosion protection include:
When buying a new vehicle, ask if it is undercoated, and if it is not, undercoating should be part of the purchase. Undercoating is always a good investment.
Keep it clean—outside, inside, and underneath. Routinely wash it carefully to remove all debris and make sure there is no build-up on the frame rails and other locations where sand, salt and other debris can accumulate. Always wash with a quality car wash soap, and don't use dish soap, as it strips your car's wax. The addition of a couple of tablespoons of baking soda into the clean, wash water can neutralize the salt and is beneficial. Don't forget to clean under the hood and up under wheel wells. Remove debris from the wheel wells, under the bumpers, behind the fenders and in any other areas that can collect corrosion-causing debris. Always rinse completely with clean water. It is always good to go into the summer and the winter with recently inspected and prepared vehicles.
Dry the vehicle completely. A clean, dry vehicle is a corrosion-resistant vehicle. Keep it dry including the interior floors. Use rubber mats, and keep the floors dry. Moisture trapped by carpeting can be a good place for corrosion to start.
Apply a good-quality wax and follow up with a wax sealant. This coats the vehicle and keeps salt and other corrosion-causing materials away from the vehicle. The use of a liquid spray wax under wheel wells and other areas that are hard to get to but are washed can be beneficial. Even if this is not done regularly, doing it at least every fall is helpful in the corrosion battle.
Use a good-quality spray protectant on all exterior rubber or vinyl surfaces. Before buying one, make sure that overspray onto paint will not be detrimental.
Except for step four, repeat steps two through six weekly. Step four, if done correctly with a good-quality product, need not be done as often. However, keeping a vehicle well protected with a good wax coating is critical in preventing corrosion and should be done as required to maintain protection.
Thanks for sharing your wealth of knowledge with us Dale!
To learn more about how winter affects your vehicle, check out this list of frequently asked questions from the Ice and Snow Technologies website.